Not every computer, browser or printer is set up with every font; it is important to verify that the selected font displays properly.
Below are examples of an incorrect font display: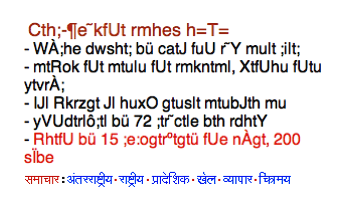 PC and Macintosh computers come equipped with many different fonts that can easily be manipulated on your screen. For some fonts to display properly, the original software CD may need to be re-installed and "Language Packages" activated. Even after the language packages are installed, some language character sets will still require that additional fonts be installed.
ABC languages like, Spanish, French, German etc, will always be delivered in MS Word, Asian languages like Korean, Japanese and Mandarin will also be delivered in MS Word and, if requested, in PDF. Other languages with unusual fonts can be delivered in PDF format or as a graphic image files so that you have an easy cross-reference to assure that your document displays the fonts properly.
For scalable screen text, EPS, PSD or Illustrator files are recommended. Additionally, font samples can be sent to you for selection, giving you options on artistic style.
CARRIAGE RETURNS ON FOREIGN FONTS:
Do not attempt to split foreign text! Languages have strict rules where a carriage return can go. Without knowing the language, you will not be able to separate languages like Thai, Japanese etc.
Some examples of accents or other letters not used in the English language of random words:
| | | |
| --- | --- | --- |
| ABC LANGUAGES: | EAST EUROPEAN LANGUAGES: | ASIAN LANGUAGES: |
| German: Übertragung | Slovenian: računalnik | Mandarin: 代理商和进口商 |
| Spanish: continuación | Slovak: hlasovú | Japanese: ボタンをクリックし |
| French: paramètres | Russian: Сценарий | Korean: 보기가 표시됩니다 |
| Finnish: käyttämällä | Polish: możliwości | Portuguese: pré-avaliação |
EAST EUROPEAN FONT:
Most computers are equipped with CE or Central European fonts. Should the font not display properly, check your font folder for CE fonts, Times CE, Helvetica CE, and so on.
OTHER ASIAN FONTS:
There are several official languages in India and surrounding countries; each language uses a different font. It is highly recommended that you not manipulate any of these languages unless your computer contains the font and you are familiar with these languages:
| | |
| --- | --- |
| Bengali: | |
| Gujarati: | |
| Hindi: | |
| Kannada: | |
| Konkani: | |
| Marathi: | |
| Telugu: | |
| Sinhalese: | |
| Tamil: | |
| Thai: | |
| Urdu: | |
RIGHT TO LEFT FONT:
Right-to-left (RTL) languages like Hebrew, Urdu, Arabic and Farsi often look perfect on your screen, but do not display properly. It is highly recommended that you not manipulate any of these languages.